A Vanessa Campbell creation
Normally,  we write our blogs about our set of products or activitiies that we are involved in.  This time however,  we are so inspired by one of our customers that we felt the need to highlight her very clever set of skills.
Vanessa Campbell recently came into our shop and showed us some photos' of an Oilcloth Cupboard that she had "re-claimed" and fixed up.  We loved it so much, we asked if we could share the pictures on our facebook page
At the same time,  Vanessa also showed us some other photo's of another project that she had completed that didn't use Oilcloth,  but was equally stunning.  She has kindly provided a "how to" for all those who would like to try thier hand at something similar.  
Elephant and Butterflies Wardrobe.
1. As you will see in the photo, the wardrobe that I pulled off the street was badly scratched but the joinery was solid and of a very good quality.  No use putting lipstick on a pig.
2. I used a handheld sander and a medium grade paper to protect the veneer as much as I could.
3. I picked Dulux vivid white for the colour,  classic colour with a nice clean finish.  I used Inspirations paint on Burwood Rd in Burwood Heights.  http://www.inspirationspaint.com. These guys really understand projects.
4. The Zinsser undercoat was very forgiving of the scratched veneer and gave great coverage and I would use it again.  Added bonus is that while it washes up in turps – you can use it with both enamel  and water based paints.
5. I used Custom Wall Designs in UK for my vinyl sticker – only because I loved the artwork and they could do a custom size for me to fit my project.  http://www.customwalldesigns.co.uk/
6.  When I got to the undercoat I had sweaty palms as I still had no idea if the sticker idea would work – did I really think I knew what I was doing ??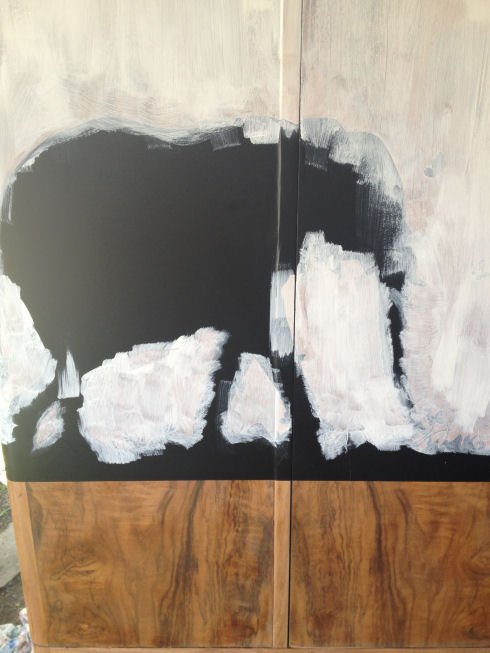 7. One undercoat,  tow coats of vivid white,  carefully peeled back the sticker,  the wood and veneer had a quick protective coat of clear polyurethane,  and put the original handles back on.  I also added an extra butterfly to cover a big veneer scratch in the bottom section.
The Finished Project.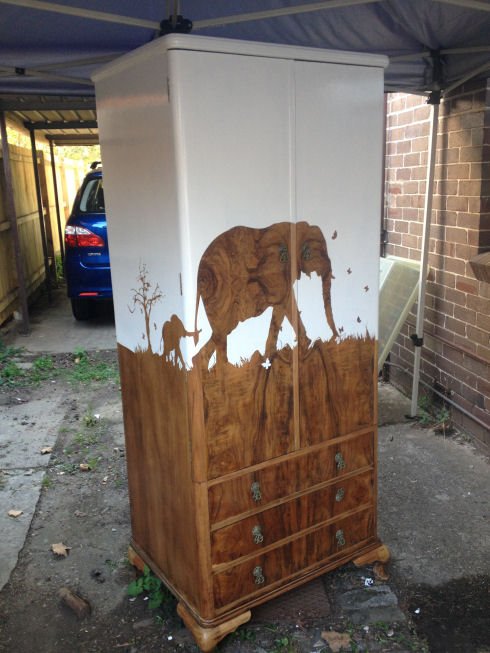 The team at Me Too Please loved this project and have promised to pass on any requests directly to Vanessa who can be reached through our office.